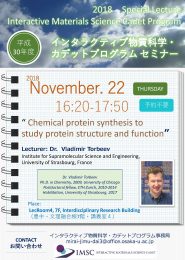 Topical Seminar by Dr.Vladimir Torbeev of University of Strasbourg
Topical Seminar for IMSC 2018 will be held.
Lecturer: Dr. Vladimir Torbeev
Institute for Supramolecular Science and Engineering, University of Strasbourg
Title: Introduction to soft matter and molecular ferroelectric science
Course objectives:
The aim of the course is to provide students with the basic fundamental knowledge of
protein chemistry and engineering as well as to illustrate practical applications in this field.
Students will obtain knowledge regarding the understanding of protein structure and factors
that contribute to the functions of proteins, methods of preparing proteins in laboratory,
as well as designing new proteins with defined structures and functions.
Schedule:
Nov.21 (Wednesday) 10:30-12:00,13:00-14:30,14:40-16:10, 16:20-17:50
Nov. 22 (Thursday) 10:30-12:00,13:00-14:30,14:40-16:10
Research Seminar:
"Chemical protein synthesis to study protein structure and function"
Nov.22 (Thursday ) 16:20-17:50
Place:
LecRoom 4, 7F, Interdisciplinary Research Building