Curriculum
The Interactive Materials Science Cadet Program aims to produce experts in materials science fields who can lead industry, government, and academia. In addition to building a strong foundation in diverse areas of materials science, special courses provide opportunities to develop the necessary leadership qualities. If the existing graduate school curriculum is thought of as only for the select few, then Materials Science Cadets can be thought of as the best of the best.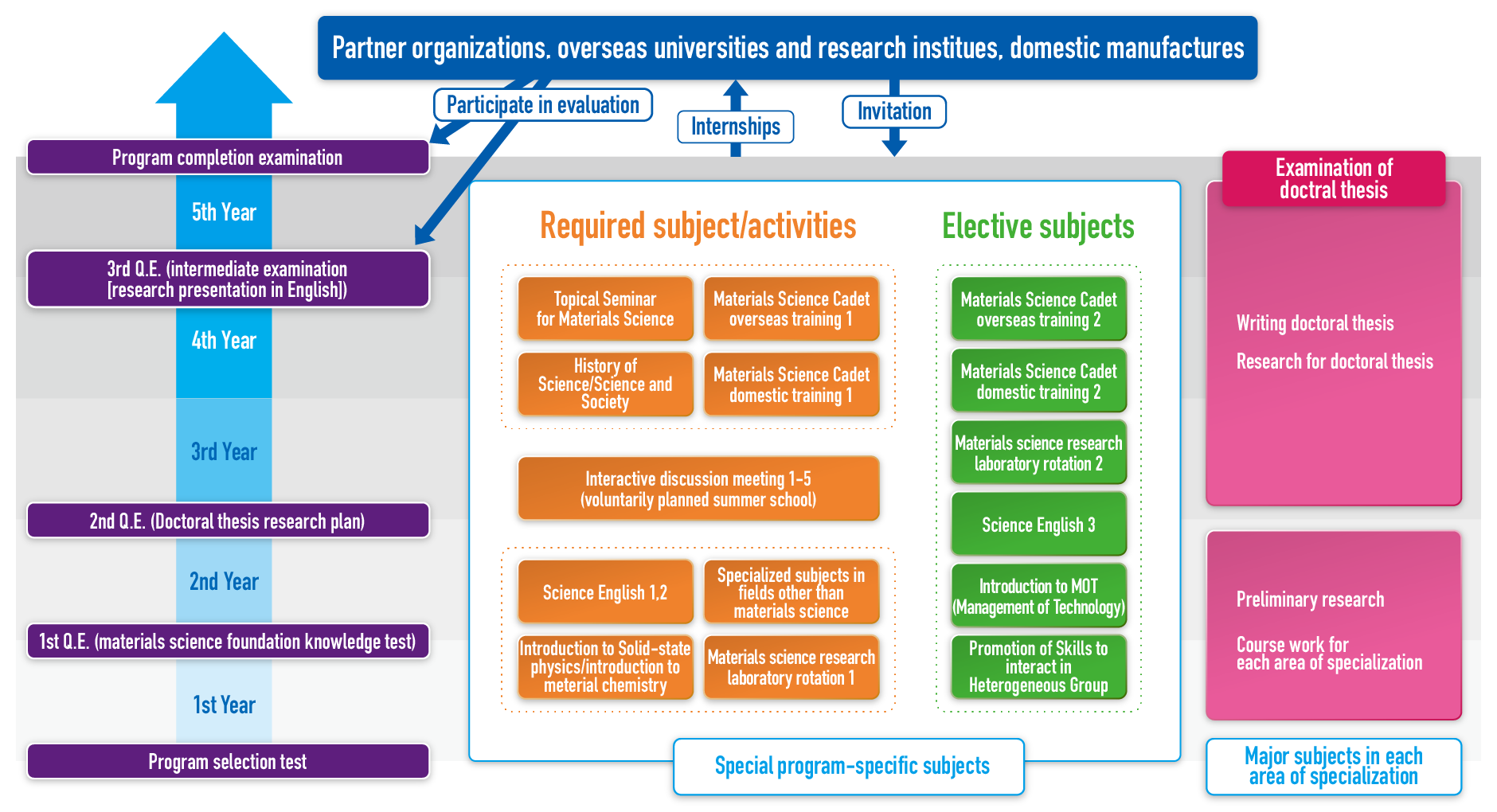 Integrated Master's and Doctoral Program
The program and its curriculum have been designed as an integrated version of conventional master's and doctoral programs. Students planning to leave the university, for example to take up employment, after completing the equivalent of a master's program will not be considered for this program.
Qualifying Examination
Qualifying examinations (QEs) or candidacy examinations are typically an important part of the progress review system of doctoral programs in the United States. QEs ensure that doctoral students have the skills necessary to conduct independent research and the writing ability to complete their doctoral theses. The Interactive Materials Science Cadet Program includes QEs, which are held in the second, fourth, and final years. These QEs are used to evaluate, throughout the stages of the program, whether students have acquired the knowledge and skills necessary for dissertation and program completion.
Special Courses
In addition to the standard program required by each student's graduate school of affiliation, students must pass the following special courses:
An Introduction to Condensed Matter Physics (for Chemistry Students) or An Introduction to Materials Chemistry (for Physics Students): These classes ensure a solid foundation of materials science outside students' areas of expertise.
Three-month Laboratory Rotation 1: Students actively engage in research different from their own laboratory and area of expertise.
English for Materials Scientists 1, 2, 3
Material Science International Internship 1: Students are expected to conduct overseas internships for a maximum of three months.
Material Science Domestic Internship 1: Students are expected to work independently for at least three months at a Japanese research institute or private company without direct instruction from their faculty advisor or instructors in the Interactive Materials Science Cadet Program.